Open World Games
Historically speaking, open-world games started in the mid-80s with some simple text adventures, but the real pioneers in this unique genre were Grand Theft Auto III and the Elder Scrolls series. They were nothing short of groundbreaking as they gave us more freedom than ever before.
Almost 20 years later we can't get enough of this 'new genre'. We keep asking – "Is it going to be an open world?" or "Err…How come it's not an open-world?" more and more often. Yes, that freedom to head wherever you want, do countless side quests, and even getting multiple game-endings became a new standard in modern gaming times. But hey, let's face it, sometimes it's your twisted mind all alone – you can't help stealing as many cars as you want, bringing chaos to peace-loving NPCs and doing all those bad things that you can't do in real life.
This sub-genre keeps evolving and gets better and better. It's definitely a fine tuning to create a balance between good storytelling and a vast accessible open-world. Nowadays gaming tech is bringing us closer and closer to the promised land of perfect open-world games. The latest impressive PC gaming hardware and next-gen consoles peeking around the corner will most likely deliver open-world games that will make us jump from our seats.
Behold! We are giving you a list of what we consider the most exciting upcoming open-world games set to release in 2020. Despite having some real gems in the recent past, these heavy artillery titles might surpass their older siblings. Fingers crossed!
The Eternal Cylinder
What would the lovechild of No Man's Sky and Spore look like? Well, we have the answer right here – The Eternal Cylinder! This sandbox survival adventure game is being made by the indie developer ACE, and is a breath of fresh air among the many war-driven and realistic open-world games released recently.
Centered on exploration and survival, the game lets you control the Trebhums – funny-looking creatures that must survive the constant threat of the ancient Cylinder, that crushes everything in its path. Yeah, this may sound quite surrealistic and absurd to you, but this weird title featuring AI-generated events, exotic lifeforms, mutation systems, and trunks (yes, like the elephant ones), might be well worth a shot if you've always wondered what it's like to be a cute little creature fighting to survive.
Release date: TBA 2020
Platforms: PlayStation 4, Xbox One, Microsoft Windows
Watch Dogs: Legion
We are getting another installment in the (in)famous Ubisoft franchise. Well, it's clear that the first game failed to deliver, but the second one was definitely an improvement. Therefore, if we follow that logic Watch Dogs: Legion might be the next big thing.
Taking place in post-Brexit futuristic London, under an authoritarian regime, Legion will feature, according to Ubisoft, some never-before-seen gameplay mechanics, as you will be able to hire, play as, and customize anyone you see in-game. The lack of a main protagonist in favor of having your own army of legionnaires is a fresh innovation and Legion strives to be the next game-changer in the open-world genre.
The trailers already showed us a stylish dystopian open-world, some good old British humor, and a granny shooting a cop in the head at point-blank range with a Desert Eagle. How can you not get hooked onto this game? The hype is real!
Release date: TBA 2020
Platforms: PlayStation 5, Xbox Series X, PlayStation 4, Xbox One, Google Stadia, Microsoft Windows
Biomutant
Let's admit it. In a world of so many sequels, prequels, remakes, and re-releases, we're kinda tired of it all. Here, we are talking about a different animal. A new game studio is giving us a fresh IP. Wait, literally an animal?
CGI raccoons are quite popular lately and Experiment 101's first-ever game is giving us the opportunity to control one such pest. But make no mistake, because  Biomutant looks like a polished and promising open-world action RPG featuring a world inhabited by mutated animals.
You are on a quest to save the Tree of Life that is being endangered by poisonous oil coming from the Earth's depths. In order to do so, our cute little furry protagonist is having a large artillery of customizable weapons, biomechanical body parts, the ability to ride air balloons, jet skis, and many more.
Release date: TBA 2020
Platforms: PlayStation 4, Xbox One, Microsoft Windows
Assassin's Creed Valhalla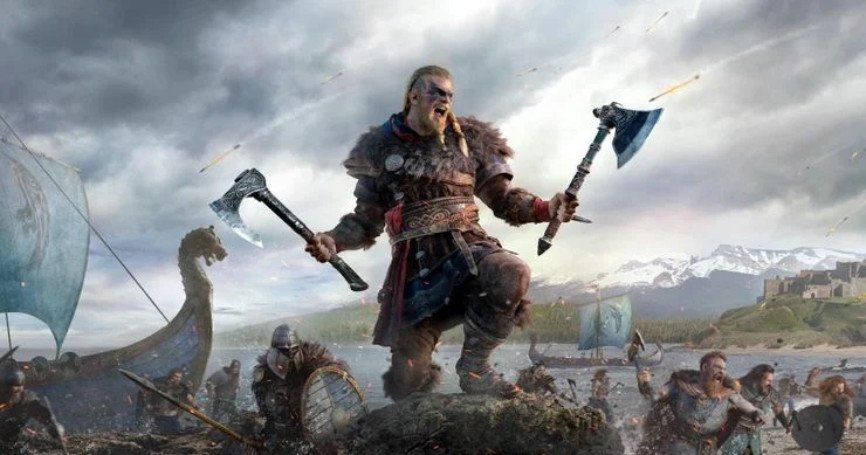 Say your prayers because Valhalla is Assassin Creed's newest installment and it's expected to land on our shores later in 2020. Being an open-world game since the first Assassin's Creed back in 2009, our favorite annual assassin simulator had some 'mehs' throughout its prolonged life, but we saw fresh gameplay elements in its latest installments in the face of Origins and Odyssey.
You are Eivor, a fierce Viking raider on a quest to crush the Anglo-Saxons and the open-world setting is going to be a war-ravaged England alongside some parts of Norway. Apart from being an ax-wielding brute, you get the chance to play stealthy using the hidden blade which we bitterly missed. Kudos to that! Other well-known gameplay mechanics are also back such as Conquest Battles, the Settlement System, and ships (albeit, no naval battles though).
Our hands are itching to lead clans to battle, chop some heads, brawl and drink with fellow Vikings and try those flyting challenges, which Ubisoft explained as "Viking rap battles". So what are you waiting for? Equip yourself with some PSN Cards and get ready to end those Еnglish guys' whole career!
Release Date: December 2020
Platforms: PlayStation 5, Xbox Series X, PlayStation 4, Xbox One, Google Stadia, Microsoft Windows
Ghost of Tsushima
Despite being at the end of its life cycle, PS4 has another trump card. Ohh, we do love those late console exclusives, don't we? The game studio Sucker Punch is giving us this uniquely beautiful open-world adventure. Being set in medieval Japan, attacked by the Mongols, you take the role of Jin, one of the last noble samurai warriors left.
Inspiration is taken straight from classic samurai flicks and the game even features a black-and-white mode to create a convincing re-experience of Akira Kurosawa's movies.
Get ready to face enemies with honor in lethal one on one standoff duels or to take a stealthy and nimble approach to dispatch them as the fearsome and vengeful Ghost of Tsushima. You get to choose your own path.
Release Date: July 17, 2020
Platform: PlayStation 4
Cyberpunk 2077
Guess what? We won't have to wait until 2077 to play this game. After it was announced in 2012, the development of Cyberpunk 2077 took forever. But in CD Projekt Red we trust! As in when the initial release date in March was moved to September (next-gen consoles release is yet to be announced), we were already ready to wait even more, because we all know that good things take time.
Can it surpass the Witcher 3? Well, it is too early to say, having in mind what a masterpiece the monster-hunting RPG was, but we are willing to bet that this game will keep us mesmerized for countless nights.
Let's get to the point. What if we tell you that this might be the best game of the decade? Are you ready to take the red pill to replace the real-life with the open world of Night City, a dystopian metropolis where violence and oppression is the norm? To be a cybernetically enhanced human being – hacking, shooting, and driving in a neon-painted 'Blade-Runnereqsue' landscape? To have mind-blowing deep character customization, almost infinite skill and item development branches, high-tech gadgets, and…Keanu Reeves as your mentor? Your other option is to take the blue pill to remain living in blissful ignorance. We already made our choice.
Release Date: September 17, 2020
Platforms: Xbox Series X, PlayStation 4, Xbox One, Google Stadia, Microsoft Windows
This year is special not only because the next-gen consoles are almost out but also because we all had to stay at home due to the lockdown and games were our saving grace. This made us appreciate the existence of games more than ever. Games giving us freedom like the ones above are a wonderful way to escape reality! Which upcoming open-world game hypes you up the most? What is the most important thing in a game like this for you? Tell us what you think in the comment section below.
---
More on this topic: