iPad Pro And iOS 11
I recently went all in and invested in a new iPad Pro 12.9" with an Apple Pen and the Logitech Slim Keyboard.  I was waiting for iOS 11 to be released so now the wait is over and I am typing this on our new iPad Pro. My reasoning for making this purchase was primarily for my daughter as a learning tool, but now that I've been using it I think we will be talking a lot about sharing.
Time To Upgrade
I found that many of the newer apps simply won't run well or at all on our 2nd generation iPads so it was time to move up. There is a lot to like about the new iPad Pro. It's really fast and the display is beautiful.  Multi-tasking, the new Dock, and Control Center are also significant improvements.  The Apple pencil expands your options for being creative. I decided to go with the Logitech Slim keyboard since I really am trying to replace my MacBook Pro.
For what I do I may be able to pull it off. I didn't intend for this to be an iPad review per say but rather bring attention to how versatile it is. This rig cost me close to $1300 and that is expensive for something many see as a toy. But the more I thought about it, the more it seemed like the right thing to do especially with a seven-year-old who is learning at a fast pace.
Justification
The way I see it, to do all the iPad can do would cost a lot more on the desktop. When shrink-wrapped software was the only option years ago you would have spent a fortune to obtain the functionality contained in many of the programs readily available on the iPad at a fraction of the cost.  When looked at in that light this purchase was worth the cost.
The iPad is truly a window into the world. With the right choice of apps or subscriptions, an active mind is never bored.  Young or old, no matter what your interests are, it's in there or is just a download away.
There are a ton of great apps out there for whatever your interests are and many of them are free. Most of my work can be done with the suite of Apple Apps that come with iOS as well as WordPress an image editor and a graphics app.
MacBook Pro / iPad Pro
One of my biggest concerns moving away from the MacBook Pro to the iPadPro was connectivity to remote volumes.  Screen sharing is not an issue when going computer to computer. But I never found a reliable way to accomplish this with the iPad until I discovered Chrome Remote. So if I need to grab a file from my desktop or use an application that's on the computer, I can do it from the iPad. I love it.
Creative
Feeling creative? Add Adobe Sketch, Adobe Draw, Graphic, Photoshop Fix, Lightroom, SketchBook and on and on and on. Want to dabble with animation?  Want to explore the planet or the solar system? In pretty short order you begin to see that the iPad Pro is a pretty amazing tool. Some of these programs pack a lot of functionality into a free app. And most paid apps cost only a few bucks and won't break the bank. A far cry from the prices we paid for software years ago.
Accelerated Early Learning
Thankfully my girl has been doing well in school, I just want to expose her to more and I think the iPad Pro is an awesome platform for this. She has been spending too much time learning and playing Minecraft, which I have mixed emotions about,  Of course, the learning part of the app is awesome. Mixing adventure with geology, chemistry, math, building, farming and creating tools and other necessities for survival.  It's the dark side of the game that I'm not too thrilled with like, Zombies, Witches, etc.  So some ground rules are in place before she can use our new iPad Pro.
Minecraft is limited to the Apple TV on weekends only.
Wash Hands before picking up the iPadPro: I can't tell you how often I need to clean our older iPads.  There is always some sticky residue on the screens thanks to my little one munching while swiping and tapping the screen.
No YouTube: The new iPad will be void of YouTube.  If not, the moment my back is turned she will be looking for the latest Pat and Jen videos to up her Minecraft skills.
In a way, the iPad is only as good as the apps that are on it, so I will be focusing on obtaining the best educational Kids Apps I can find.  These will mostly be free or low cost. I'll invest in a pricier paid app only after I'm sure there is a real benefit that isn't already provided through other options. We're not interested in subscriptions since she is already using apps like;
I-Ready, ST-Math and Smarty Ants through her school and at home. These are excellent early education apps. Kahn Academy is also a staple for both her and me.
Kids Apps
In my quest to find the right Kids Apps, I have put together a list of some of the ones I found that seem to be a hit with our seven years old.
As far as my daughter is concerned, I want her to be exposed to Swift Playgrounds and explore how code can affect elements on the screen.  If that turns into a genuine interest I may add a MeeBot or something similar for Christmas so she can see how code effects a real-world device.
My girl is a rock hound who is in love with gemstones and Geology. So Apps on earth sciences were high on my list. Little Alchemy and Little Alchemy 2 are a big hit with her. You start out with four basic elements, Earth, Air, Fire and Water and by combining elements you can create up to 580.
BrainPop Jr Movie Of The Week is free. They offer a paid subscription to their library of educational and entertaining videos that are ideal for kids in Kindergarten through grade 3. The BrainPOP Jr. Movie of the Week is free and spans subjects like Science, Social Studies, Reading, Writing, Math, Health, Arts, and Technology. The kids have relatable characters like Annie and Moby that are humorous and guide your child through each topic. There is a quiz after each video to reinforce what the child has learned. This app cultivates critical thinking and encourages children to make connections. Suitable for kids ages 5-9.
Virtual manipulatives is a free app from www.abcya.com.  It provides a virtual set of fraction bars that are designed to demonstrate fractions, decimals, and percentages. The app alone does not provide meaning for learners on its own. It is best used with an adult to guide and bring meaning to the concepts and help the child make the connections.
iBooks is an Apple staple that is included with iOS. I am getting her to use for a family reading time.  It's a beautiful way to download and build a personal library of digital books. Reading in iBooks provides crystal clear text that is easy to read in any light. You can browse your books on a bookshelf. Tap a book to open it, flip through pages with a swipe or a tap. Use bookmarks to pick up where you left off. One of my favorite features is highlighting text, which allows me to flag individual words she has trouble with for review later. The ability to make notes is also valuable. The iBooks Store has a nice collection of kids books.
Another reading app we love is Disney Story Central. This app will start you off with a couple of free books and after that, you purchase tokens that you can use to purchase books and add to your digital library. These titles are all based on the many Disney movies and characters your child already knows. Some have audio so the book can be read to the child or the child or parent can read it themselves. You would expect beautiful illustrations from Disney and they do not disappoint.
For a free geography app, FlyMaps is really cool. FlyMaps is an interactive globe that allows you to get a worldview right down to the street level. Explore the planet, countries, cities, and towns. It pinpoints your location and displays in real-time so you can see which locations are in daylight or nighttime. Everything is labeled so there is no guesswork as to what you are looking at.
Story Creator is a fun app that allows you to easily create beautiful storybooks that can contain photos, videos, text, audio, and drawings all in one place. Your stories come to life. The app allows you to relive your experiences and share your most fond memories. By combining media, text, drawings and more, Story Creator provides a complete solution for creating memories.
Sushi Monster from Scholastic provides fun practice for addition and multiplication. The app will reinforce, and extend math fact fluency. It is fun, engaging and challenging. It strengthens reasoning for whole number addition and multiplication by helping monsters make a target sum or product.
For a beginner's look at animation Flip Pad is simple, easy to use, and a lot of fun. A lot of fun for free.
There are apps for teaching about money and making change.  Apps for teaching how to tell time in analog or digital formats. Every interest, every subject, there really is an app for that.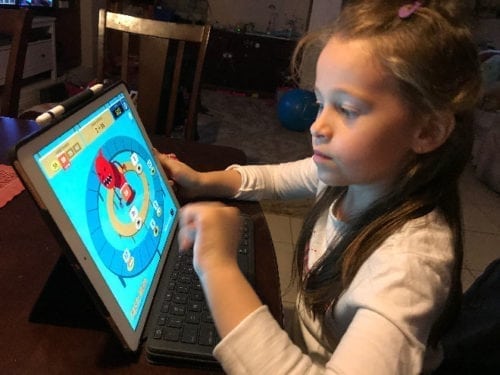 I love seeing that sparkle in a child's eyes when they see something engaging for the first time. Then rapidly take on a new challenge and their satisfaction and sense of accomplishment when they succeed.  We have only had our iPad Pro for a few days, but I think there will be a lot of exploring, learning and enlightenment occurring around here in the coming years.