Continuity Activation Tool 2.0 is here! It adds support for an increased number of older Macs, including those from as early as 2008!
OS X Yosemite and iOS 8 work together in a beautiful, seamless manner through 'Continuity'. It allows you to switch from Mac to iPhone / iPad, and vice versa, for tasks like writing email, editing presentations, typing messages, taking a call etc. It allows your Mac to instantly and automatically connect to your iOS device's 3G / 4G connection in case it does not find a suitable WiFi connection.
The last time we covered Continuity Activation Tool, it was able to enable Continuity on Macs running OS X Yosemite from as early as mid-2009. Now, Continuity Activation Tool 2.0 supports Macs as old as 2008 with just a Bluetooth 4.0 Dongle, or a new AirPort Extreme card.
You can see the list of compatible Macs, and what sort of extra hardware they require from the image below: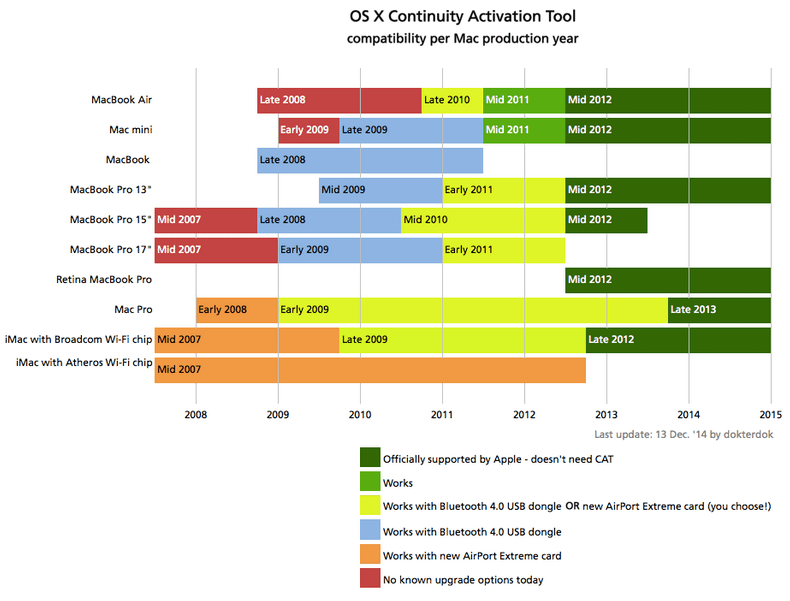 How To Use Continuity Activation Tool 2.0
Anyone with average level of computer – particularly Mac computer – knowledge will be able to use Continuity Activation Tool without putting strain on their brain (that rhymed!).
Double-click to open the downloaded 'master' ZIP.
Double-click on the app
Follow the instructions given on screen!
The tool will let you know which Mac you are on, check if it is compatible at all with Continuity, patch system files after backing them up, and accordingly point you in the right direction. If you are on an older Mac, you will likely need a compatible Bluetooth 4.0 USB Dongle. You can check the official GitHub page – linked above in Step 1 – to see which dongle you should buy.
Use the tool at your own risk, though. Although I have not heard any negative reports from users, Continuity Activation Tool 2.0 does play around with system files, so there is always the chance of something going wrong. Be careful.