Over time, screenshots can add up to a several hundreds of megabytes of storage space o your iOS device. Screeny is an iOS app which solves the problem of managing screenshots by letting you batch delete all screenshots from iPhone and iPad in one go.
As a blogger, taking screenshots, editing them, and just managing them is an integral part of my blogging workflow. I take dozens of screenshots every month, and so it is not unusual to find my Camera Roll littered with stray screenshots. It is too much effort for me to go through my entire album to find and delete screenshots I do not need. There is a strong need for a solution to batch delete all screenshots from iPhone and iPad; a need that is adequately answered by a new app called Screeny for iOS.
Developed by Noef Fing Name*, Screeny allows you to easily batch delete all screenshots from your iPhone, iPad, and of course your iPod touch. It is an exceedingly simple app. You launch it. Give it permission to access your Photos. Allow it to scan your Camera Roll. You can then select which screenshots you want to delete or keep, and then you batch delete screenshots. That's it. It is simple, and straightforward.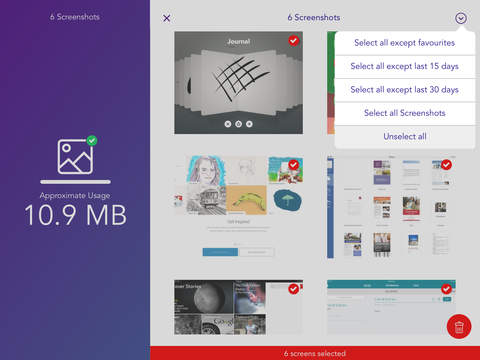 I have been using Screeny on my iPhone for some time, but it is only yesterday that it was updated to support larger screens of the iPad.
Screeny is available on the App Store as an affordable $0.99 download. We strongly recommend it if you take a lot of screenshots, and want to reclaim the noticeable amount of very precious storage that they take up.
Download Screeny [App Store Link]
*This is important since, as of typing, there are four clones of Screeny in the App Store. Each developed by different people. As such, you should know that the right version is made by Noef Find Name.