2020 was the year we learned of the importance of our immunity. Regardless of whether you are a health freak or a junk food junkie, we all had to take a moment to figure out how we can arm our bodies with the right nutrients to be strong enough to beat this new virus.
Although we live in an uncertain time, we are lucky to live in an age where getting our groceries is as easy as clicking on a screen and ordering our delivery. So the next time you are doing your shopping, you might want to consider adding the following seven immunity-strengthening foods that can help you be healthy and fight diseases.
https://unsplash.com/photos/5z1a_EsYs40
Cannabinol
Although CBD feels like a newcomer, this natural compound has been used for medicinal purposes for thousands of years. With the legalization of CBD in 2018 in all US states, finding CBD products is far more accessible.
CBD is excellent for many reasons. Primarily, it has less than 0.3 percent THC, so unlike marijuana, there is no risk of getting high or of overdosing. Although research on this natural compound is still in its early stages, researchers have observed encouraging results regarding CBD's benefits for anxiety, depression, insomnia, cancer, Alzheimer's, skin problems, chronic pain, and more.
CBD might also play a role in strengthening your immune system and fighting diseases. This natural compound can potentially promote apoptosis, or cellular death and prevent rapid cellular growth. High-quality CBD products come in many forms, including oil tinctures, balms, skincare products, soaps, and more. You can even buy CBD infused flour to make baked edibles.
https://unsplash.com/photos/Z1blcEJA12U
Kiwi
The list of benefits that come with eating kiwi is impressive. This fruit can manage blood pressure and protect you from vision loss. It can help with asthma issues and prevent sickness. Albeit small, kiwi contains critical vitamins and nutrients, including vitamins C, E, and K, potassium, and folate.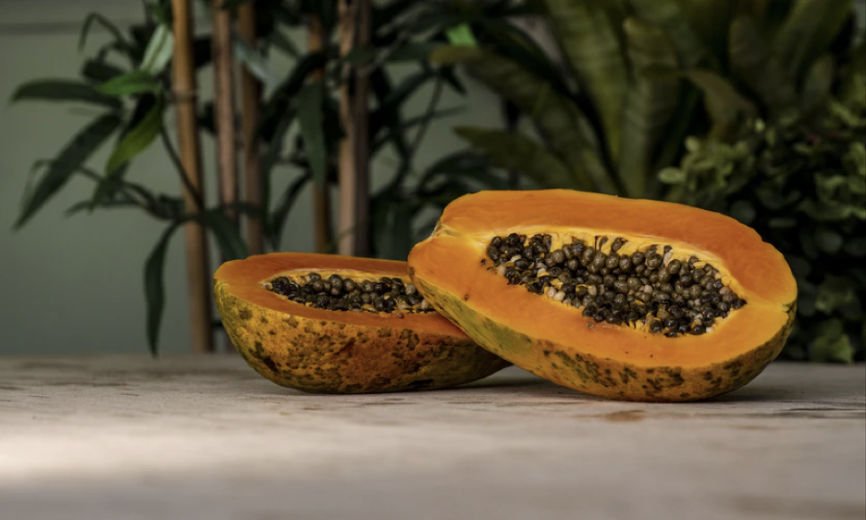 https://unsplash.com/photos/BIj5FAFQ_rk
Papaya
Maybe papaya isn't like a banana or an orange that you pop in your lunch bag automatically, but you should because this fruit has loads of nutrients. For starters, papaya has potent antioxidant effects, making it a great option to fight oxidative stress, liver disease, prediabetes, and mild hypothyroidism. Papaya can help fight inflammation, improve your heart's health, and even help your digestion.
https://unsplash.com/photos/qgWWQU1SzqM
Almonds
Almonds may be the A student of nuts, and for a good reason. This tiny brown snack can help lower the risk of heart disease, and thanks to its antioxidant properties, it can keep your good cells healthy and safe from the free radicals which come into your body due to pollution, junk food, and alcohol.
The almond can also lower your cholesterol thanks to its good fat, and it may reduce the risk of diabetes. This nut can lower blood pressure and keep you feeling full, so you don't indulge in unhealthy snacks.
https://unsplash.com/photos/H7I5LCBWOjQ
Sunflower seeds
While almonds may be the nut family's star, sunflower seeds can take first from the seed group. Much like some of the former edibles, sunflower seeds have anti-inflammatory properties, which reduce the risk of chronic diseases such as chronic respiratory diseases, cancer, stroke, and heart disorders.
Studies have shown how this seed can improve heart health, boost immunity to prevent illnesses, and help fight sickness. Thanks to its vitamin E content, the sunflower seed is an excellent snack for expectant mothers as it allows the fetus to grow by supporting the placenta.
https://unsplash.com/photos/_emRPLTRfwk
Miso
The next time you want to add flavor to your cooking, why not try a teaspoon of miso rather than salt? Part of the fermented foods family, miso paste is loaded with critical minerals and vitamins such as vitamins B, E, K, and folic acid.
Incorporating fermented foods into your diet is essential to give your body the bacteria it needs to form a robust immune system. Miso gives our gut a dose of good bacteria to stay strong and healthy, not only physically but also mentally.
https://unsplash.com/photos/bpVuSTWtyqA
Sweet potato
A Thanksgiving staple, sweet potato should be eaten more than once a year and not just because it tastes like heaven when grilled with a dash of olive oil on it. Like some former superfoods, this orange vegetable is a good source of antioxidants, but there's more.
The sweet potato will give you the fiber you need to lower the risk of chronic diseases such as colon cancer and to enjoy regular bowel movements. With its high vitamin A content, sweet potato can also support your vision by protecting eye cells from damage.
https://unsplash.com/photos/vyHo3nnk8G8
Eating superfoods doesn't have to be complicated
Undoubtedly, there are more than just these seven superfoods that you can incorporate into your diet to boost immunity and fight diseases. The best way to consume as many different nutrients and minerals as possible is by going for fresh ingredients and varying the colors and ingredients you buy.
References:
---
More on this topic: